The balloon is the most simple and, at the same time, an elegant choice of decoration. They look great and are also inexpensive. However, it would help if you styled them in unique ways to make them attractive. If you don't know how to design them, don't worry, we will help you to develop them in a creative mode.
You can create amazing wands out of these balloons. Further, these not only look cute but attract small children a lot.
A string of Pearls Arch
Under this string, you develop an arch that surrounds the entire room and looks elegant. Moreover, it is quite simple to make.
Hot Air Balloon Model
Hot air balloons always attract people. Moreover, it is a lovely romantic surprise for your loved ones. However, if you cannot afford a hot air ride, you can always give a hot air balloon theme party to your loved ones. Also, these are simple to make.
Giant Confetti Balloons
If you don't have anything in mind, as to how to style your balloon, then you can use confetti balloons. These are so charming and looks fantastic in the room. You can even fill the entire floor with these. Moreover, children will have a great time playing with giant confetti balls.
Floral Balloon Backdrop
Now, flowers are always an excellent idea for decor. Moreover, when you mix them with balloons, they look more amazing. Further, they attract many eyes too.
Balloon Garland As Table Centerpiece
If you are hosting a dinner party, then this is the perfect decor for your event. Moreover, it looks formal and elegant, as well.
Balloon Columns
Balloon columns are long pillars arranged out of a group of balloons. In addition to this, you can make them in various designs, sizes, and colors. Moreover, they make your place look more pleasing to the eyes.
Photos Hanging From Balloons To Create A Chandelier Over A Table
Subsequently, if you are planning a surprise dinner for your spouse. Then this is the perfect decor idea. Moreover, they look romantic, and it seems that you have made great efforts to plan the surprise.
Popsicle Balloons And Flowers
Popsicle balloons look magnificent and elegant. Moreover, when you combine flowers with them, their beauty enhances more.
Paper Hearts And Transparent Balloons
Shape colorful paper hearts and glue them on the string of bright balloons filled with colorful hearts, the whimsical result will float above the centerpiece thanks to the helium contained. They are sure to attract the eyes of many people.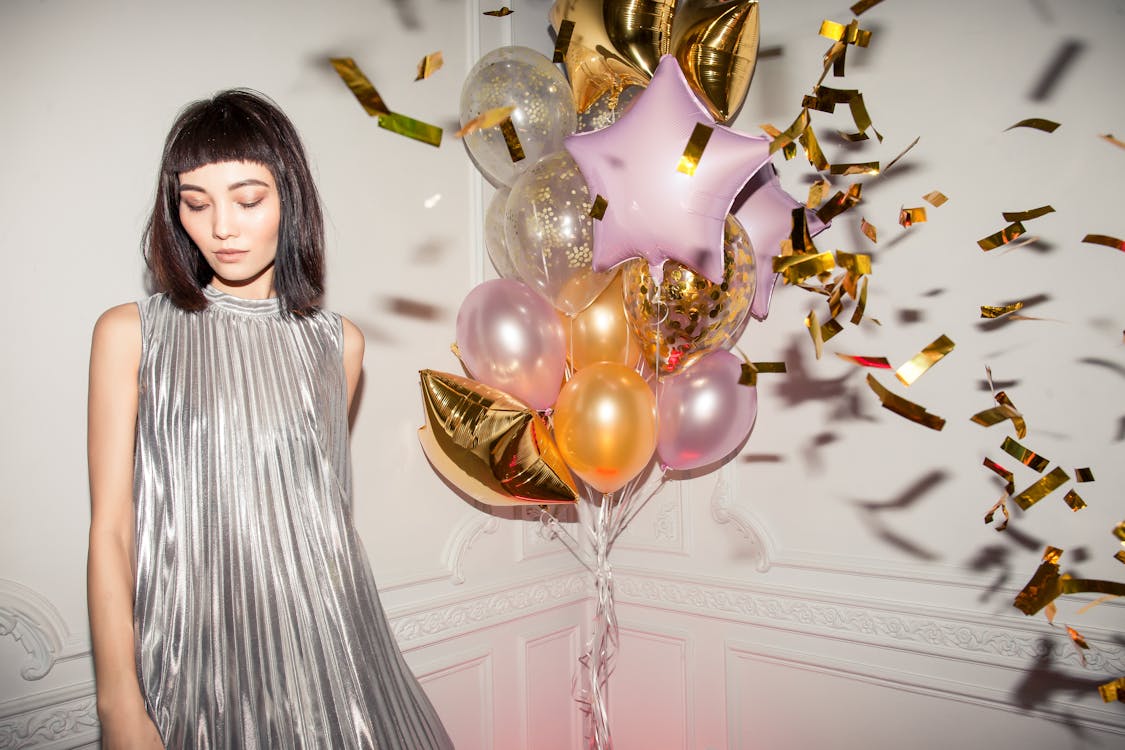 LED Balloons
LED lights look great with everything. Thus, when you combine lights with balloons, they look even more exceptional and elegant.
Photobooth
Another great thing you can do is make a photobooth. Everyone loves to take pictures. Thus, it will become an excellent backdrop for their photographs. Moreover, people who love to click pictures will love you for this decor.
We hope that you enjoyed reading this article. And at the same time, you got several ideas for decorating your house when you party.